Home Staging – Décoration et aménagement du bien
La Home Staging ou décoration d'un bien est une partie importante de notre Méthode d'investissement locatif.
Elle nécessite de bien comprendre les attentes des clients locataires selon le marché local et de connaître leurs goûts pour déclencher le fameux effet « Coup de cœur ».
Quelque soit le marché locatif au sein duquel vous réalisez un investissement, une bonne présentation du bien sera toujours un plus. Elle permettra à votre bien de se démarquer de la masse de biens du marché et de déclencher un coup de coeur lors de la visite. Les avantages sont nombreux : avec un bien de meilleur qualité, vous serez à même de louer votre bien plus cher qu'un bien classique de même surface donc d'obtenir un meilleur rendement locatif.. D'autre part, vous aurez plus de demandes donc la possibilité de choisir un meilleur dossier, plus solvable.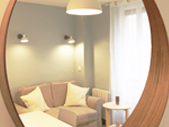 Aménagement intérieur et décoration d'intérieur
---
L'aménagement consiste à définir un plan adapté et optimisé qui permettra de mettre de tirer le meilleur parti de votre base existante. Un plan optimisé est un plan qui sublime le bien : une meilleure distribution des pièces, plus de lumière, moins de place perdue. Certains plans sont faciles à réaliser, mais un aménagement de qualité nécessite de faire appel à un architecte d'intérieur qui dispose d'une vision professionnelle. Attention à l'improvisation, qui peut vous coûter cher une fois les cloisons posées si l'espace ne convient pas. Un bon aménagement permet la mise en valeur maximum des m2 et va de pair avec une décoration de qualité. C'est un point qui est particulièrement soigné dans les investissements pour lesquels nous accompagnons nos clients.
Home staging ou décoration d'appartement
---
Le Home Staging est un art, qui consiste à décorer l'appartement pour le rendre attractif. Ainsi le choix des meubles, des couleurs et des éléments décoratifs peut sembler simple mais ce n'est pas le cas. L'enjeu est de faire en sorte que votre bien plaise au maximum de candidats locataires. Par exemple si vous faites une décoration rose bonbon, il y a peu de chance que vous suscitiez l'intérêt d'un étudiant de sexe masculin... Décorer oui, mais pas trop personnaliser pour que chaque visiteur puisse s'imaginer vivre à l'intérieur. Une autre erreur souvent commise par les investisseurs en immobilier est de faire une décoration comme il l'aimerait... Donc très personnelle. Un investissement locatif est par nature destiné au locatif, comme son nom l'indique. Inutile d'aller trop loin dans la décoration, il faut aussi laisser la place à votre futur locataire de s'installer et de changer certaines choses à son goût pour qu'il se sente chez lui.
Qualité des matériaux
---
Enfin, un investissement locatif est fait pour durer. La qualité des travaux réalisés et des matériaux employés est cruciale. On évitera le marbre brut évidemment trop cher et inutile pour votre locataire. En revanche on optera pour des matériaux et des meubles qui durent. Donc éviter le premier prix du magasin du coin... qui sera à remplacer au bout de 2 ans. Vous souhaitez bénéficiez d'une prestation de home staging, ou faire réaliser une rénovation d'appartement à Paris ?Contactez-nous.
Success stories from our investor customers
Our greatest pride is your renewed trust! More than 2 out of 3 clients go on to one or more other projects. Find out why...
Benoit CARTHERY

Paris Region

"I would like to share here my experience with the investment-locatif.com company, to reassure people who are not familiar with the concept I call: "they take care of everything, you take care of nothing 😊". Well almost nothing, you just have to ask your bank for the loan 🏦(...) I can't wait to start a new project with them.

Vincent Alagille

Paris Region

"(...) The support and the follow-up of the project are done by a dynamic, professional and pleasant team. The various impediments are quickly overcome thanks to the efficiency of the staff. It's confusing how easy it is to invest with Investissement Locatif! I HIGHLY RECOMMEND.

Gaby Taverny

Paris Region

"(...) I was convinced by the services offered by Investissement-locatif.com (...) The deadlines announced at the beginning of the project were respected, a fact that is worth emphasizing. The service was clearly up to my expectations. The attention of the various players throughout the process was an important part of the project. Communication is key. Moving on to the second project ...!!!!!
Our advice on rental investment
Discover the guide for
Un investissement locatif
rentable en 2023