Invest
Investissement locatif Lille :
le rendement et le patrimoine
Lille is a very interesting city to invest in. Dynamic and attractive, it has a high rental demand and a large number of students. It is possible to make a rental purchase with high profitability. 
Simulate your investment in France
With our rental investment simulators, take stock of your real estate project!
Key figures : 
Price per square meter: 3 201 € for apartment (from 2 148 € to 4 337 €)
Average monthly rent : From 10 € to 16,1€ per m2 depending on the property and the area
3rd student city
Average gross yield: 5 to 9% depending on the neighbourhood
Rental investment Lille: investing in real estate in Lille
There are many advantages to investing in rental property in Lille. The largest city in the north is a pleasant city and particularly appreciated by students.
Very well placed in the 2020 list of cities to invest in, the city of Lille has considerable advantages, which we will see throughout the article.
Very popular with students, close to Belgium, the city has been, for several years, booming and constantly evolving, making its real estate market flourish and sustainable. More and more university centres and grandes écoles are being established there, and companies are opening up on every street corner.

Taking advantage of this combination of factors, we propose here to deepen your desire to invest in real estate in Lille by advising you in your search and by accompanying you in all your searches.
Investing in real estate in Lille: what you need to know before taking the plunge.
Obviously, when embarking on a project as important as a real estate investment, a certain number of elements must be taken into account beforehand. First of all, you need to be sure that the region in which you intend to invest is a dynamic region, a source of employment opportunities, and whose main cities are employment catchment areas. Indeed, it does not seem very wise to focus on a city that is gradually being emptied of all its inhabitants, starting with the youngest, or a city in which demographics are in freefall, or a city where unemployment is at an all-time high. The questions you will have to ask yourself must be carefully studied, and concern the job market and the employers or businesses that are established all around.
A successful long-term investment requires tenants who pay their rents regularly. That is why we always advise you to opt for large cities or megacities rather than the countryside or an openly endangered, crisis-stricken region with a very limited labour market.
Economic dynamism :
Unemployment rate Q4 2018: 9.5%.
Holder of the FrenchTech Label
Euratechnology Centre: 1st incubator in France and 10th in Europe
EuraSanté: France's 3rd largest health cluster
Euralille: France's 3rd largest business district with companies focused on the tertiary sector
A major French player in the field of food processing, health, textiles, trade and mass distribution.
This is why investing in the Hauts-de-France region, and in Lille in particular, is currently a deeply considered, bold and fair choice. With the cities of Croix - Roubaix, Tourcoing and Villeneuve-d'Ascq, Lille is a true European metropolis, where exchanges are constant and ever-increasing, amply facilitated by the presence of the Eurostar, which connects major cities in just a few hours, such as London, Paris, Lyon and Marseille. Young entrepreneurs are settling here and working in all sectors, particularly in the cultural and new technology sectors. Another plus to keep in mind: the Lille metro. It is the longest French network outside Paris, with nearly 45 km of tracks and serves faculties, businesses and shops with its 60 stations. This mobility will promote demographic growth and the dynamism of the city. Buying to rent in Lille is therefore a particularly juicy idea these days!
Transportation :
2 stations: Lille Europe and Lille Flandres : TGV line to Paris in 1 hour
2 automatic metro lines (it takes an average of 15 minutes by metro to cross Lille).
88 bus lines.
2 tram lines.
2000 self-service bicycles
International Airport
Namely: 
Investissement-Locatif © est une marque déposée - 2M CONSEIL - 2012-2021 - Tous droits réservés.
2 metro lines: metro 1: 20 minutes from Bois Blanc to Saint Maurice Pelevoisin; metro 2: 20 minutes from Lille Sud to Fives
2 tramway lines from the stations to Roubaix-Tourcoing
2 tram lines.
88 bus lines
5 roads: A1 Lille Paris, A22 Lille Antwerp, A23 Lille Valenciennes, A25 Lille Calais, A27 Lille Brussels
Discover our services and our team in video

Once this initial analysis has been made, it is now time to look at the demographic issue. As the main city of a vast cross-border conurbation, it is the tenth largest city in France and its growth is constantly increasing from one year to the next. According to INSEE, since 2014 the city of Lille has been growing by 3.12% compared to 2009.
This undeniable attractiveness is largely due to the fact that the student population is constantly increasing, thanks to the continuous establishment of grandes écoles, as well as universities with research centres, laboratories... Indeed, according to the figures, we can see that the age pyramid is clearly tilting in favour of the 19-25 year olds, which makes Lille a very young city, essentially a student city!

This criterion is essential for you who plan to make a real estate investment in Lille! Being sure that you are targeting your project in a city where demand is constantly increasing is a guarantee of success for you who are launching your project!
Exceptional university centre, always larger and larger.
Students: 
3rd largest student city in France
120,000 students
80 institutions of higher education.
51% of students are looking for a studio or a T1 in Lille intra muros.
Since the 90s, there has been a real explosion in the student field and the establishment of renowned establishments in the city of Lille. Whether it is the opening of the Institute of Administration and Business in the Vieux-Lille district, but also Science Po Lille, or the law school located in the Moulins district, the list is growing of establishments that have taken the gamble to come and open their doors in this magnificent city. As the third largest university centre in 2020 along with Paris and Lyon, the city of Lille has also opened the European Doctoral College of the University Lille Nord de France, which each year welcomes several thousand new doctoral students, nearly 10% of whom are international students in ERASMUS year.
For several reasons, this element is crucial for you, as it is inherent to the success of your project. Indeed, students represent a very large majority of tenants, and they are a very interesting public for you, because of several important factors. In addition to the fact that they are very numerous, students are often the population with the best guarantors. Students in Lille will probably seek to rent out small areas or share a flat, which allows landlords to have higher rental yields. For the real estate investor in Lille that you are preparing to be, this is therefore an excellent question to peel off from all angles.
Discover the advantages of LMNP Real status for investment.
Know how to anticipate the desires and needs of young students, who will have prerogatives that they will want to respect: proximity to schools, you can also consider investing in the liveliest neighbourhoods, where students like to go out and relax after their long working days. Rental profitability in Lille is becoming more and more important, it's up to you to see how to go about it!

The Vauban-Solférino student district is of great rental interest. If students are mobile, it may also be interesting for them to rent small apartments near the train station of Lilles-Flandre or Lille-Europe. This location is ideal for daily travel to the major cities served by the Eurostar.
Rental yield in Lille: what profitability to expect?
With a growing number of investors from outside the conurbation, we are seeing a strong rental yield that continues to grow from one year to the next. Prices are currently much more attractive in Lille than in Paris or many other major cities.
A very fashionable practice is to invest in the old, restore and furnish the property. Indeed, the idea of a furnished dwelling may also be worth thinking about very seriously. Indeed, if you are targeting young tenants and students, it is likely that they will be mobile and will only occupy your property for a few months. Make sure that they don't have to take up too much space, by taking the initiative and offering them a comfortable, simple and stylish home that is both usual and comfortable. A furnished investment in Lille is a criterion on which you should pay particular attention.
Finally, for the same reasons, it is better to opt for a studio in Lille, or a T2 in Lille, which will give you a better return. However, if you are planning to invest in a larger surface area, you may also consider sharing your property, in order to get the most out of it.
In what type of property to invest in Lille?
Take advantage of a booming market to invest in a home with a slightly larger surface area than you would have had if you had invested in Paris or the Paris Region. You can also invest in the old Lille with a view to refurbishing! It's a real chance for you to start in a city where everything is still to be built, take advantage of it! You will then be able to seriously consider sharing your property, and thus increase your rental yield! All this, of course, must be done within your budget and always calculating as accurately as possible.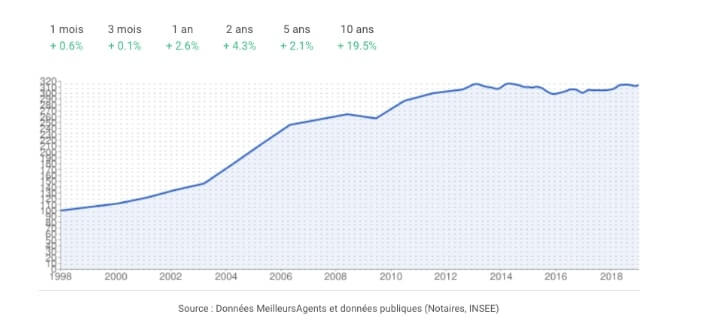 Whatever your decision on this subject, it is important that you have the geography of Lille in mind and know the best areas, those where student life is in full swing, where schools abound...
What are the best areas to invest in Lille?
Many elements have come to profoundly modify the personality of the city of Lille, as well as its geography. In fact, this is immediately felt on rental investment in Lille. After having been European capital of culture, then city of art and history, many elements have come to modify its configuration.
Culture and Heritage :
European Capital of Culture
Unesco Heritage: The Belfry of the Town Hall
10th city in France with the most historical monuments
The Palais des Beaux-Arts: the second largest museum in France after the Louvre
Exceptional monuments: Vauban's citadel, Notre Dame de la Treille Cathedral, the Palais Rihour, the old Stock Exchange, the Grand Place...
Here are a few districts to which we advise you to turn your attention, if you are wondering at this very moment where to invest in Lille, in order to best choose the layout of your property: the Old Lille is a district very suitable for property restoration, which allows an increase in value at the time of renting your property. In the same way, Lille's "golden triangle", an axis that runs from rue Faidherbe to rue Esquermoise, is perfectly adapted for renovation work that guarantees you a long life when your property is put into circulation.
There is of course a prestigious real estate in Lille, with rates exceeding 6,000 € per m2, but this is not legion compared to the Lille real estate market.
Concerning the districts of the city with a more attractive potential, we can for example cite the district around the Lille-Flandres and Lille-Europe train station, then the Saint-Maurice Pellevoisin district. There is a strong need for housing there, made even more enormous by its proximity to the station. In the city centre, it has become almost impossible to find accommodation for less than €3,300 per m2. But the conditions abound for you to find your property and for it to be a real nugget for you.
Also check this page for more information! Lille : Where to buy ? Where to invest? What are the promising districts?
Calculate your rental profitability, an essential step in the investment process!
Price per m2 in Lille.
With an average of 3.200€ per m2, the amplitude is however very important from one district to another, and from the city centre on, big differences appear. In some outlying districts, the amplitude becomes stronger, with prices that can go up to 3500€ per m2, or in the Old Town district where prices can exceed 4.600€ per m2.
The price per square metre is an essential factor in the city, which has been evolving steadily and positively in recent years.
Prospects for the property market in Lille.
With a steady upward trend, prices for all different types of property are on the rise, whether it is an investment for rental or a primary or secondary residence. Within five to ten years, some neighbourhoods, where prices are attractive today, will increase in value over time.
In addition, last year a major commercial project in Lille took shape: Lillenium. The creation of a large-scale commercial, hotel and cinema complex will generate strong economic development in the sector, but also throughout the European capital! The shopping centre is the largest construction site north of Paris and is already well advanced, the first stone was laid at the end of 2017.
For all the reasons we have seen in our article, we strongly recommend that you turn to the experts. Our team is at your disposal to take stock of your project and help you make a real estate investment in Lille.
Whatever your budget, we support the fact that this is now a trend of choice, and that the city of Lille is currently one of the best markets for real estate investors. Thus, we are committed to advising you on set-ups, investment locations and helping you in every step of the project.

Rental Investment Director
All our achievements
Success stories from our investor customers
Our greatest pride is your renewed trust! More than 2 out of 3 clients go on to one or more other projects. Find out why...

Benoit CARTHERY

Paris Region

"I would like to share here my experience with the investment-locatif.com company, to reassure people who are not familiar with the concept I call: "they take care of everything, you take care of nothing 😊". Well almost nothing, you just have to ask your bank for the loan 🏦(...) I can't wait to start a new project with them.

Perfect 5/5

Benoit CARTHERY

Vincent Alagille

"I would like to share here my experience with the investment-locatif.com company, to reassure people who are not familiar with the concept I call: "they take care of everything, you take care of nothing 😊". Well almost nothing, you just have to ask your bank for the loan 🏦(...) I can't wait to start a new project with them.

"(...) The support and the follow-up of the project are done by a dynamic, professional and pleasant team. The various impediments are quickly overcome thanks to the efficiency of the staff. It's confusing how easy it is to invest with Investissement Locatif! I HIGHLY RECOMMEND.

Benoit CARTHERY

Gaby Taverny

"I would like to share here my experience with the investment-locatif.com company, to reassure people who are not familiar with the concept I call: "they take care of everything, you take care of nothing 😊". Well almost nothing, you just have to ask your bank for the loan 🏦(...) I can't wait to start a new project with them.