Rental investment in Nantes
Choosing to invest in Nantes means ensuring a demand for rentals and attractive returns. This is why we are proud to be here. From studios to T2s and up to shared flats, different types of properties are suitable!
Simulate your investment in France
With our rental investment simulators, take stock of your real estate project!
Key figures : 
Price per square meter : 3 378 € for apartment (from 2 258 € to 4 468 €)
Average monthly rent : From 9 € to 14€ per m2 depending on the property and the area.
2nd city with the strongest employment growth
Average gross yield: from 3 to 6% depending on the neighbourhood
When you decide to embark on a rental investment project, certain things will be decisive in the way you carry out your project, which will lead to seeing it unfold in all its quintessence and lead to your success. Such a project is not to be taken lightly, because it involves a large sum of money, and the whole issue is how to make it grow.
In this article, we will answer the essential questions, which here mark a decisive turning point in the quality of your project: where to invest in Nantes in 2019? What is the price per m²? We will also develop the merits or disadvantages of a furnished rental in Nantes, and try to highlight the reasons why you should opt for one or the other, so that you are always informed about the scheme that will suit you best for your rental investment in Nantes.

What are the challenges of a successful rental investment in Nantes?
First of all, why not start by listing the questions that go through your mind about investing in rental property in Nantes? As you are about to become a rental investor in Nantes, you must first be able to answer a certain number of questions, with essential criteria at the key. First of all, find out whether the economic fabric of the city, and of the region, is solid and well developed. Is the city of Nantes in an employment area, or is it on the fringes of this? All these questions are essential to the growth of your project, because it would not be very wise to invest in a region affected by the crisis and unemployment, and which could gradually be emptied of its inhabitants and young entrepreneurs. In Nantes, we know that the city is doing very well economically, because businesses are flourishing, schools are opening, and certain courses are in high demand.
The Nantes employment area is dynamic and is the leading economic centre in the west of France with more than 30,000 companies and today a predominance of the tertiary sector. Nevertheless, Nantes remains a major industrial centre thanks to maritime transport, with the port of Nantes St Nazaire, and also to the agri-food industry (1st rank in France) and the aeronautics sector (2nd rank in France). The city has also been able to take the digital turn and is a first-rate basin. Nantes is France's 7th largest tourist city!
+36,000 inhabitants in 10 years
Nantes enjoys a very strong attractiveness. The latter is reflected in one of the highest population growth rates in the country.
Economic dynamism : 
Unemployment rate Q1 2019: 6.6% (national average: 8.6%)
French Tech label and economic lung of the Pays de la Loire region
2nd largest conurbation in terms of employment growth
Dynamic and ecological metropolis elected Green Capital by the European Commission in 2013
1st industrial growth in France Nantes is the 1st shipbuilding centre and the 2nd aeronautics and food-processing centre.
1st growth in digital employment
4 Atlantic Biotherapies competitiveness clusters, Civil Engineering Eco-Construction, EMC2 cluster, Images et Réseaux, ID4CAR
One out of every two executives in the Paris region would like to move to Nantes
Numerous urban economic development projects (Jules Verne Innovation Cluster, New MIN (market of national interest), ultramodern university hospital)
In fact, after examining these elements, you can be sure that you are heading towards a city in great shape, economically speaking, which has a good chance of making your investment profitable! The latter is visible when your tenant pays his rent regularly and you realize a capital gain on it. This is why invest in the middle of the countryside, in a region affected by unemployment, with few businesses, is unlikely to allow you to achieve the profitability we are talking about.


In Nantes, real estate is very attractive for all these reasons, and this is a real asset for you that you should not have to deal with. Once these elements have been checked, you now have to look at the demographics. Here again, by opting for Nantes, you score points. Constantly on the rise, there are more and more people in the conurbation, as well as in the whole department. The dual role of demographic and economic attractiveness generates a guarantee of security for those who would like to invest in the city. With nearly 300,000 inhabitants, Nantes is the 6th largest city in France and the first in the west of France. Together with Nantes Métropole, the conurbation has more than 600,000 inhabitants, making it the 8th most populated area in the country.
Population : 
318,800 inhabitants (6th in France)
949,316 inhabitants (urban area)
Rising demographics: Nantes has gained 36,000 inhabitants in 10 years, in its urban area alone, proof of its attractiveness.
2 out of 3 inhabitants are less than 40 years old

Universities and Grandes Ecoles in Nantes
In addition to the powerful economic attraction that has been played out in Nantes for several decades, we know that major schools are still opening there, whose courses are particularly sought-after by students in all fields of study. The quality of the courses offered is impeccable, and the young graduates are particularly well placed on the job market once they have graduated. Thus, in the fields of design, economics, politics and the Maison des Sciences, nearly 47,000 students are spread over almost 200 schools, with an ever-increasing proportion of foreign students on ERASMUS trips.
Discover our services and our team in video
This high concentration is a new essential point for you, which you must keep in mind throughout your research. Indeed, young students are fond of small areas or shared accommodation, which allows investors to benefit from higher rental yields.
It is now up to you to be attentive to the question of supply and demand, to anticipate the expectations of students, and thus offer accommodation that will not remain vacant for a long time. To do this, consider the following two possibilities: firstly, choose accommodation close to a school. The most conscientious young students will absolutely seek accommodation close to their school, to waste as little time as possible on transport. Also consider that you can take advantage of a very fashionable neighbourhood and offer young people the opportunity to live in a very popular part of Nantes. Bars, pubs, cinemas, find the ideal spot, close to all these decompression points!
Of course, there is a good chance that young people would rather seek to settle near the centre, or on the Ile de Nantes, which for several years now has seen its land being built up in all directions, with ever more elegant and modern premises!
Students: 
56,000 students
Nearly 70 higher education institutions
About ten Grandes Ecoles Centrale, Les Mines, ICAM ...

Quid about the rental yield in Nantes
A city particularly sought after by students from all backgrounds, the rental yield of the city of Nantes has continued to grow and increase over the last ten years. Moreover, on a 10 to 15 year horizon, we can affirm that this process is not on the way out! This statement is therefore to be savoured, as it concerns you, and also concerns your ability to make a profitable investment!
Have you thought about investing in the old one, renovate it and thus exercise a capital gain? This process is very common and no longer needs to be proven! In general, young investors like to own a fairly small property, such as a studio or a T2. If you opt for a larger surface area, why not think about sharing?
Discover the advantages of LMNP Real status for investment.
Which apartment to choose in Nantes?
Ideally located only 50km from the Atlantic Ocean and two hours by TGV from Paris, Nantes was elected European Green Capital in 2013. The city has been at the top of the list of cities to invest in for several years.
Since you are not planning to invest in the Ile-de-France region, it may be juicy and lucrative for you to do so, and choose a larger home! Start by doing some location scouting to get a clear idea of the best place to invest in Nantes, to make sure you're investing in a neighbourhood popular with young people! Adapt your budget to your desires! If you can afford it, you can think about buying a larger surface area, which you can then share! Not only is this process very common among students and sought after by them, but you can also get a higher return!
Finally, it is at this point in your transaction that you will have to choose between a furnished and an empty apartment. Once again, be very careful what you choose, because, if you then have the possibility of increasing the rent, you have to be careful that you will no longer belong to the same tax system. All these questions have precise answers, so do not run the risk of getting into trouble because you have not paid enough attention, and thus lead you into a perilous situation.
Namely: 
1 TGV station leading to Paris and the South-West
1 Nantes Atlantique international airport: 12 national and 33 international destinations
3 tramway lines extending over 43.5km
59 bus lines and 1 boat-bus line
In which districts of Nantes should we invest?
With an ever denser market, be aware of the evolution of real estate in Nantes. On the Ile de Nantes, new construction is gradually transforming a constantly changing landscape. Modern buildings, designed to house a large number of dwellings, are an essential point to which you can turn your attention. Indeed, practical, convenient and elegant, they have everything to please and catch your eye, as well as that of your future tenants.
Renovations are going well all over the city, ask specialists to find out which homes are the most popular, the closest to schools... Finally, in the centre, the station area is also being restored, and you can find old, classic and very beautiful homes, with a view of the castle, or even the cathedral, or the Lieu Unique. As in many French cities, it offers great financial stability and security for investors. In return for this luxury, the average price per m² is the highest in the city. Indeed, it offers many local shops and services and is located close to public transport. In addition, Nantes' city centre is currently undergoing renovation, which is contributing to the slight rise in prices. The population of this district is heterogeneous, with nearly 25,650 inhabitants, including young adults, families and students. Loaded with history, this district includes charming places such as the Town Hall, the Graslin Theatre, the Castle of the Dukes of Brittany or the Place Royale. There are also museums, such as the Dobrée Museum or the Natural History Museum.
Culture and Heritage : 
A geographical situation at 1h from the sea (La Baule)
Label "City of Art and History"
7th French city in terms of tourist numbers (2 million per year)
Exceptional monuments: The Ile de Nantes, Cathedral Saint Pierre and Saint Jean de Nantes, The castle of the Dukes of Brittany, The Garden of Plants, The Pommeray Passage, The unique place (former LU biscuit factory), The Ile de Versailles, The Graslin Opera, Numerous museums (Fine Arts, Jules Verne, Natural History...)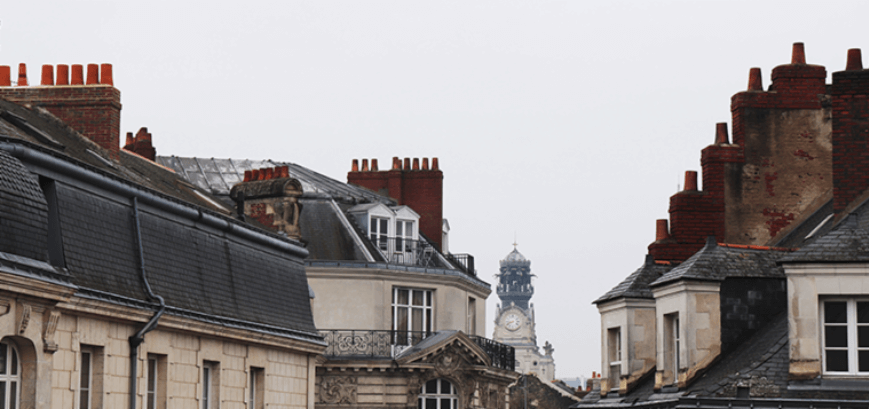 Sur l'Île de Nantes, les nouvelles constructions viennent petit à petit transformer un paysage en constante évolution. Des immeubles modernes, conçus pour abriter beaucoup de logements, sont un point essentiel vers lesquels vous pourriez porter votre dévolu. En effet, pratiques, commodes et élégants, ces derniers ont tout pour plaire et vous taper dans l'œil, ainsi qu'à vos futurs locataires. L'île de Beaulieu est sans aucun doute la deuxième zone à garder en tête quand il s'agit d'investissement nantais. Il abrite environ 13 200 habitants et surtout des étudiants et des jeunes familles. Son positionnement sur le cours de la Loire en fait une zone à forte demande d'habitation. Si le centre-ville abrite de nombreux sites charmants, des lieux incontournables tels que le Centre Commercial Beaulieu, le Stade Michel Lecointre ou le Palais des Sports se trouvent dans ce second quartier. Pour les investisseurs souhaitant se concentrer sur l'investissement locatif pour étudiants, l'île de Beaulieu est un incontournable. En effet, le hangar à banane situé sur l'île est l'un des principaux lieux festifs nantais.

À l'ouest du centre-ville se trouve un troisième quartier intéressant accueillant 33 500 habitants, soit le quartier le plus peuplé de Nantes. Beaucoup plus résidentiel et calme. Du fait de sa diversité, le prix au m² oscille grandement.  La Place Zola, cœur du quartier, propose son marché chaque jeudi matin. De plus, les commerces et les services se trouvent à proximité. Les lieux à ne pas manquer sont le Viaduc de la Chézine, le Pont Jules César, l'Ancien Domaine des Dervallières ou encore l'Ancien Château des Dervallières.

Ensuite découvrez Hauts Pavés- Saint Félix.Ce quartier compte près de 32 000 habitants. De nombreuses résidences de services sont présentes dans ce secteur où il serait intéressant d'investir. Les sous-quartiers Procé et Monselet se situent dans ce secteur et proposent un cadre de vie idéal. Effectivement, entre verdure, lac et urbanisation, les Hauts Pavés-Saint Félix bénéficie d'un emplacement de qualité. Tout se trouve à proximité. Grâce au Parc Procé, les habitants disposent de 12 hectares d'espaces verts. Ce quartier résidentiel, aux airs de village, dispose de 58% de locataires. Enfin, les lieux à ne pas manquer sont la Place Viarme, le Jardin Japonais avec l'Île de Versailles ou tout simplement l'Erdre.

Finally, let's not forget Malakoff - Saint Donatien. This district has about 31,600 inhabitants and is located between the Loire and the Erdre rivers. Malakoff-Saint Donatien benefits from an ideal location between the river and the city centre. It is a district in full expansion which promises beautiful developments in the years to come. In addition, residents can move around easily, thanks in particular to the public transport network but also thanks to the proximity of the Nantes train station. It is a very dynamic sector that offers access to many shops, services and offices. Prices per m2 range from €2,400 to €3,700. Almost 65% of its inhabitants are tenants in this sector. Finally, this district offers the Museum of Fine Arts, the Cité des Congrès, the Jardin des Plantes and some churches. An environment that is attracting more and more investors.
Calculate your rental profitability, an essential step in the investment process!
Price per m² in Nantes
In February 2019, it is estimated that the price per m² in Nantes is set at 3300 on average, all types of property combined. If this price is rather low, it is high time for you to see how you can take advantage of this so as to get the most out of it for you!
That's why, throughout your journey, experts stand by your side. We always want to provide you with the best possible advice, so that your transaction goes as smoothly as possible. Don't hesitate to contact us now and ask any questions you may have! You can contact us all day long.
You wish to invest in Nantes? Contact our team.

Mickael Zonta
Rental Investment Director
A graduate of a major business school, and after a first successful experience in finance, Mickael Zonta began his career in real estate in 2011 in Paris before extending his activity to the Paris region and the city of Lyon. The fact that he is also a real estate investor in a personal capacity allows him to understand clients' issues in terms of investment objectives, rental yield and choice of tax regimes.
Success stories from our investor customers
Our greatest pride is your renewed trust! More than 2 out of 3 clients go on to one or more other projects. Find out why...
Benoit CARTHERY

Paris Region

"I would like to share here my experience with the investment-locatif.com company, to reassure people who are not familiar with the concept I call: "they take care of everything, you take care of nothing 😊". Well almost nothing, you just have to ask your bank for the loan 🏦(...) I can't wait to start a new project with them.

Vincent Alagille

Paris Region

"(...) The support and the follow-up of the project are done by a dynamic, professional and pleasant team. The various impediments are quickly overcome thanks to the efficiency of the staff. It's confusing how easy it is to invest with Investissement Locatif! I HIGHLY RECOMMEND.

Gaby Taverny

Paris Region

"(...) I was convinced by the services offered by Investissement-locatif.com (...) The deadlines announced at the beginning of the project were respected, a fact that is worth emphasizing. The service was clearly up to my expectations. The attention of the various players throughout the process was an important part of the project. Communication is key. Moving on to the second project ...!!!!!
Our advice on rental investment
Discover the guide for
Un investissement locatif rentable en 2021