Rental investment in Lyon, an obvious choice for well-informed investors.
Lyon is experiencing a strong evolution of its real estate market thanks to major projects, a dynamic economy and a large student community.
Simulate your investment in France
With our rental investment simulators, take stock of your real estate project!
Key figures :
Price per square meter: 4 898 € for apartment (from 3 359€ to 6 328 €)
Average monthly rent : From 9 € to 16€ per m2 depending on the property and the area.
2nd largest student city in France
Average gross yield: from 3 to 6% depending on the neighbourhood
Rental investment in Lyon is an obvious choice for the real estate investor looking for an attractive city and an attractive rental yield. Indeed, this metropolis is ranked 2nd in the list of French cities in which to invest. Lyon benefits from a strategic geographical location: 2 hours from Paris, Geneva and close to Italy. This position has always made it a crossroads of Europe. Its economy is strong and its location in the heart of the Rhône Alpes Auvergne region (formerly Rhône Alpes), France's 2nd largest region in terms of GDP, gives it excellent economic dynamism for the future.

I am Mickael Zonta, director of Investissement-Locatif.com and real estate investor. Passionate about real estate investment, I wish to share with you my knowledge of the Lyon market. In this article you will discover the important points to take into account if you wish to make an investment in rental real estate in Lyon. Where to buy in Lyon in 2020? What is the price per square meter in Lyon? We will also return to the recurring questions from investors, the first of which is where to invest in Lyon... and conversely, which districts to avoid in Lyon. Finally, we will look at the various empty and furnished rental schemes through the prism of the Lyon market, in order to enlighten you on the best scheme for the rental investor in Lyon.
Real estate investment in Lyon: economic advantages for a long-term investment
One of the first elements to take into account for any real estate investor is the level of economic dynamism of the place of investment. In this respect, Lyon sets an example. Before investing, ask yourself: how is the job market doing? Is the economic fabric well developed? Does the region have a reservoir of jobs and companies... or is the only employer a factory at the end of its life? These questions must be addressed before consulting property advertisements. A profitable investment in the long term requires a tenant who pays his rent and I always advise against investing in the countryside if the economic fabric is not solid. By definition, tenants must be able to pay their rent...
Calculate your rental profitability, an essential step in the investment process!
As such, Lyon has serious assets and this is what makes real estate in Lyon very attractive. First of all, it is the capital of the Rhône-Alpes-Auvergne region, which is the second region after Île-de-France in terms of GDP. So it's only logical that Lyon has a strong economic dynamism with many companies in all sectors and especially in new technologies.
Economic dynamism : 
Unemployment rate Q1 2019: 7.7% (national average: 8.6%)
French Tech Label
France's 2nd largest economic hub and one of the top 20 richest cities in Europe
France's leading healthcare cluster: Lyonbiopole and 2nd largest logistics region in France
2nd largest city for congresses and trade fairs at the national level
5 competitiveness and research clusters, 2 of which are world class
After this first element, you will have to analyze the demographic dynamics. If the investment location is empty of its population, then the rental demand will decrease . On this point too, the Lyon metropolitan area is an example. Lyon's population has grown by an average of 1.1% per year over the last five years (source: INSEE). The Lyon metropolitan area currently has more than 1.3 million inhabitants, making it the 3rd most populous French metropolitan area after Paris and Marseille, while having a better demographic dynamism (source Insee Métropole Lyon).
Population :
513,000 inhabitants (third largest city in France)
2,310,000 inhabitants (urban area)
Population growth on the rise: +4% per year
This dual economic and demographic attractiveness is a guarantee of sustainability for anyone who wants to invest in rental real estate in Lyon.
Lyon was ranked first French metropolis in the "city of today, metropolis of tomorrow" ranking. This ranking, carried out by Pwc, is based on a large number of criteria, and Lyon surprised everyone by coming out ahead of Paris.
Culture and Heritage : 
An extraordinary geographical location (1h40 from the French Riviera by train and 2 hours drive from the slopes)
Capital of gastronomy
12 museums (Museum of Fine Arts, Confluence Museum, Museum of Cinema and Miniature ...) 
Very famous events: Festival of Lights (1.8 million spectators), Fourvière Nights (200,000 spectators), Dance Biennial (100,000 visitors...). 
4 districts of Lyon (Fourvière, Le vieux Lyon, Croix-Rousse and la Presqu'Île) are listed as UNESCO World Heritage Sites (an area of 500 hectares).
Exceptional monuments: Saint John's Cathedral, Notre-Dame de Fourvière Basilica and the Gallo-Roman Theatre, Place Bellecour, The Golden Head Park, Place des Terreaux, Lyon Opera House.

Lyon, a university center of excellence and a leader among student cities
In addition to its economic attractiveness, the city of Lyon is also renowned for its university centres and colleges. Thus Lyon is the 2nd city in terms of the number of students, with 164,559 students registered in 2019, 10% of whom are foreign students.
The student clientele is interesting since the students are mostly tenants. In addition, the parents are guarantors, which gives the landlord solid guarantees. Finally, students in Lyon generally rent small areas or shared flats, which allows Lyon's landlords to offer higher rental yields. For the real estate investor in Lyon, this population of Lyon students therefore represents an excellent signal.
Students:
2nd student city in France and elected in 2018 "Best student metropolis in France".
144,000 students
The University of Lyon ranked in the TOP 10 of the best universities in Europe and 34th in the world (QS Best Student Cities 2017)

It remains to properly target students' expectations by choosing Lyon's neighborhoods according to two categories: on the one hand, Lyon's neighborhoods in which students study, and therefore which some prefer for the practical aspect. And on the other hand, the coolest Lyon neighborhoods, which attract students with greater financial resources and who are looking for housing in Lyon primarily for the living environment.
As such, we recommend the Confluence district in Lyon 2nd, even if prices have already increased since the "Confluence" project, Gerland in Lyon 7th, or the Part Dieu district in the 3rd district of Lyon. These neighbourhoods are therefore in the process of development and the real estate investor can count on the potential for price growth over the next ten years.
The areas of Lyon most sought-after by students with the highest financial means are mainly the peninsula, old Lyon, which is located in the lower part of the 5th arrondissement and the 6th arrondissement of Lyon.
Transportation :
The Lyon Part-Dieu and Perrache stations are equipped with the TGV line, and allow you to reach Paris in 2 hours.
4 metro lines including 1 automatic and 6 tramway lines. 36% of home-to-work journeys are made by public transport. 
+ more than 100 bus lines.
1000 self-service bikes
1 international airport
Discover our services and our team in video
Rental yield in Lyon: up to 5.5% gross in Lyon and over 6% in Villeurbanne
Purchase prices in Lyon rose sharply in 2019/2020, with an increase of +7.20% over one year (source: notaries, as of June 2020). This increase in purchase prices, a sign of the city's strong attractiveness, makes it difficult to achieve high profitability. Thus, the rental yield in Lyon could reach 5.5% gross if you choose to invest in the old, renovate and furnish the property.
With few exceptions, we advise against investing in Pinel in Lyon, which offers very low yields, even including the tax advantage.
The rule for rental investors is the same as in Paris or Bordeaux: a small studio type space in Lyon or T2 will allow a better return. Larger areas will have to be used as shared flats to offer a satisfactory return.

What type of apartment to choose in Lyon?
The rental investment in Lyon does not necessarily differ from a rental investment in Paris. Thus we always find the same types of products that allow us to obtain a high return while having a strong liquidity at the time of resale. We will advise you to choose according to your budget a studio in Lyon, a T2 or a shared apartment.
As rental pressure is less strong in Lyon than in Paris, we will opt for slightly larger surface areas in order to better reflect the reality of the Lyon real estate market. Whatever the case and whatever type of property you choose, it must correspond to your target tenants. As such, thereal estate investor in Lyon must be familiar with the neighborhoods.
The most attractive scheme, whether for higher rents or favourable tax treatment, is the real LMNP scheme (non-professional furnished renters with a real tax return).
Discover the advantages of LMNP Real status for investment.
Where to invest in Lyon and which districts to focus on?
Our property hunter in Lyon, has an excellent knowledge of the market. Originally from Lyon, he has worked in several agencies in Lyon for more than 9 years. During these years, Lyon's districts have evolved and the city has been transformed thanks to major projects initiated by the Metropolis of Lyon.
These renovation projects remind us of those in Bordeaux or Paris and demonstrate a political will to develop the city, as well as strong future ambitions. We are thinking in particular of the Lyon Confluence, Lyon Gerland and Lyon Part-Dieu projects, among others, which you can find on the Greater Lyon website.
The rising districts of Lyon are the confluence at Lyon 2, Lyon 8, Villeurbanne, even if the price of real estate has already increased since the "Confluence" project; Gerland at Lyon 7, the Part dieu sector at Lyon 3.

Prices per square meter in Lyon
Lyon has different areas and you will discover districts where the price per square meter in Lyon varies a lot. Prices vary from single to double with a price per m2 in Lyon that varies between 3.300€ / m2 and 9.000€ / m2 depending on the area. In Villeurbanne we are at 3,379€/m² and finally on the peninsula we are between 8,000 and 9,000€/m².
Prices in Lyon are constantly on the rise, as you can see on this graph showing the evolution of property prices in Lyon between 1994 and 2020 (source: Lyon notaries, June 2020).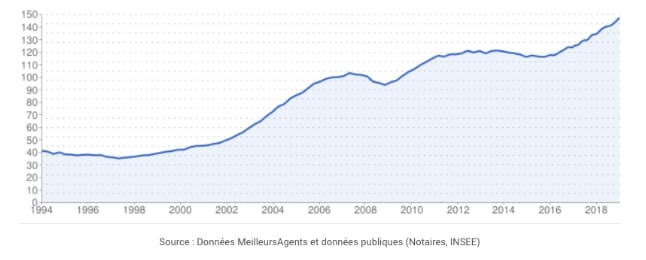 Outlook for the Lyon real estate market in 2020 
After a sharp rise in 2019, the current period should confirm the renewed interest of buyers in Lyon's real estate market. The city's good demographic health, its strong economy and the renovation of certain districts should allow prices to continue to rise over the next 10 years.
You wish to invest in Lyon? Contact our team.

Mickael Zonta
Rental Investment Director
A graduate of a major business school, and after a first successful experience in finance, Mickael Zonta began his career in real estate in 2011 in Paris before extending his activity to the Paris region and the city of Lyon. The fact that he is also a real estate investor in a personal capacity allows him to understand clients' issues in terms of investment objectives, rental yield and choice of tax regimes.
Success stories from our investor customers
Our greatest pride is your renewed trust! More than 2 out of 3 clients go on to one or more other projects. Find out why...
Benoit CARTHERY

Paris Region

"I would like to share here my experience with the investment-locatif.com company, to reassure people who are not familiar with the concept I call: "they take care of everything, you take care of nothing 😊". Well almost nothing, you just have to ask your bank for the loan 🏦(...) I can't wait to start a new project with them.

Vincent Alagille

Paris Region

"(...) The support and the follow-up of the project are done by a dynamic, professional and pleasant team. The various impediments are quickly overcome thanks to the efficiency of the staff. It's confusing how easy it is to invest with Investissement Locatif! I HIGHLY RECOMMEND.

Gaby Taverny

Paris Region

"(...) I was convinced by the services offered by Investissement-locatif.com (...) The deadlines announced at the beginning of the project were respected, a fact that is worth emphasizing. The service was clearly up to my expectations. The attention of the various players throughout the process was an important part of the project. Communication is key. Moving on to the second project ...!!!!!
Our advice on rental investment
Discover the guide for
Un investissement locatif rentable en 2021