Our advice for your real estate investment
Discover our advice, explanations and case studies concerning rental investment. Register at free of charge to our
newsletter to be kept informed of the latest articles, the latest achievements and our real estate opportunities.
La situation du marché immobilier français en 2021
Vous êtes investisseurs en immobilier ou vous voudriez le devenir en 2021 ? Nous allons vous dévoiler l'actualité de l'immobilier en ce débu...
Co living : un nouveau concept d'investissement immobilier
L'habitat partagé : c'est le pari du coliving. La tendance prend de l'ampleur et les investisseurs s'y intéressent de plus en plus. Rentabil...
Préparer sa retraite avec l'immobilier
Retraite rime avec diminution du pouvoir d'achat. Comment contrer cet effet ? L'immobilier est un placement particulièrement adapté pour la ...
Investir dans l'immobilier : le bon moment
Pour investir dans l'immobilier, vous devez discerner les fenêtres d'opportunités. Voici les éléments clés pour vous permettre d'y voir plus...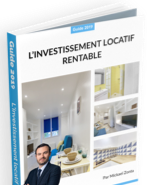 Discover the guide for
Un investissement locatif rentable en 2021
Complément de revenu : l'investissement immobilier
En investissant dans l'immobilier, vous pouvez bénéficier d'un complément de revenus grâce aux loyers perçus chaque mois. Mieux encore… si v...
Comment booster sa rentabilité locative
You wish to invest or have already invested, but you want to know what you need to do to maximise the profitability of your rental property?