Rental investment Paris,
A logical choice for the real estate investor.
Rental investment in Paris allows the investor to choose between high liquidity and attractive rental yields. Provided that value is created with the works and that the requirements of the Parisian tenants are met. 
Simulate your investment in France
With our rental investment simulators, take stock of your real estate project!
Investing in Paris means choosing a tense property market, with a very strong demand for rentals all year round. Rents are high and you will benefit from a very high liquidity of the properties for future resale. These elements are essential for well-informed real estate investors, and Paris is the property option when looking for a rental investment in the Paris Region (Ile de France).
Rental investment in Paris has proven to be an unavoidable choice for investors looking for high rental yields and a dynamic real estate market. As you already know, the French capital is one of the most beautiful cities in the world. Paris is located in the heart of Europe and has a strategic geographical location. It is a city known worldwide thanks to its economic dynamism and cultural richness. It is also one of the leading student cities in the world. Every year, Paris welcomes several thousand students, tenants, investors... This capitalbrings together many advantages to obtain the best possible rental investment in France. This is why it I personally invest in Paris......
My name is Mickael Zonta, I am the managing director of Investissement-Locatif.com and a real estate investor... in Paris. Convinced by real estate investment, I wish to share with you my knowledge of the Parisian market which is different from the French market and give you my advice to invest in the best possible conditions in Paris in 2021.
IT WAS A GOOD WAY TO INVEST OUR MONEY...
PARIS IS A VERY DYNAMIC MARKET.
ELVIRA S., CLIENT IN PARIS
In this article you will discover the essential aspects to consider if you wish to make a rental property investment in Paris. For example, you will discover why Paris is a unique market, whether in terms of available offers, economic dynamism and real estate prices and the specificities of the Parisian real estate market. But I will also answer investors' recurring questions: what are the capital's assets for a rental investment? Where to invest in Paris? Which district to choose? What is the price per square meter of real estate in Paris? Finally, I will give you make the best rental investment in Paris. Are you ready? Let's go!
Paris rental investment in 2021: specific characteristics of the Paris real estate market
The Parisian real estate market is clearly different from the rest of France. The first cause of the market tension is the lack of available offers compared to the rental demand in Paris. It is this shortage that is largely responsible for the very high prices for both rentals and sales. The question for investors is therefore to know what the causes of this tension are, and especially whether this rental tension (measured by an ITI real estate tension index) is likely to last. The specific characteristics of the capital impact on real estate purchase and rental investment projects.
Because of its many historic buildings (Haussmann-style, 1900 or medieval period) and its small surface area, the city of Paris today (in 2020) offers very little available land - building land. This explains why very few new buildings are being built in the inner city of Paris. The majority of the few new programs are carried out by the Paris City Hall and are intended for social housing. The other real estate projects are most often renovations or buildings built to replace dilapidated buildings, which does not allow for an increase in the supply available on the market. Demand for housing in the capital continues to grow, while supply is not increasing sufficiently. The shortage is widening and rental tension remains very high. In this context, the interest of a rental investment in the old in Paris is real. 

Real estate investment Paris: in 2020, the choice of an economic capital
One of the first elements to consider for the real estate investor is the economic dynamism of the capital and the Paris region, which is one of the strong points of the French capital. And this is even more true during the crisis period (post-Covid), since the French need jobs and these are primarily located in large cities. Today, the Paris metropolitan area is one of the most dynamic economic centers in the world. It is one of the world's five largest metropolises and the changes in its economic fabric, particularly its position in the world of start-ups, give us great hope for the future. It is a driving force for French growth. Paris, in three economic specializations:
Paris is a capital of economy and innovation: the city is home to the headquarters of 39 multinationals, among the 500 most powerful multinationals in the world. The La Défense business district accounts for 20% of the GDP of the Paris Region and is the world's leading business district, with three million square meters of office space and 150,000 employees. It is home to 1,500 companies, including 14 of the top 20 national companies and 5 of the top 15 in the world.
In 2021, Paris is the most attractive European capital for start-ups and investors. As a world leader in innovation, the French capital is a territory of innovation that encourages the development of projects by offering financial, accommodation and support assistance. The city is proving to be a major attraction for innovative companies, as evidenced by the opening in 2018 of Station F, a giant incubator created in the 13th district and financed by entrepreneur Xavier Niel.

This solid and dynamic Parisian economy is attracting a large number of employees and managers, who have housing needs :
Intelligence, Paris appears to be one of the world's leading places and it ranks in the division of the world's major cities of intelligence. Paris is one of the three cities in the world to have won Nobel prizes in each of the five disciplines of physics, chemistry, economics, medicine and literature.
The City of Lights, Paris is a cultural and tourist attraction, a city that is culturally very rich by being the capital of fashion, luxury and gastronomy, even if it competes with other world metropolises. It ranks first in the world in terms of cultural facilities with its museums, theaters, operas, cinemas, performance halls, parks and gardens etc...
The image of the Parisian capital remains that of a "romantic" city, a museum city with its city center, which makes it the world's leading tourist destination, with more than 47 million visitors a year.
The city of Paris is also said to be the world champion for public transport, according to a study by the Institute for Transportation and Development Policy (ITDP). It is the best-served capital, with three international airports, seven high speed train stations (TGV), fourteen subway lines and five suburban railway lines (RER). As a result, 100% of Parisians live less than one kilometre from a railway station, which facilitates the standard of living in Paris.
These economic elements are very encouraging if you wish to invest in Paris.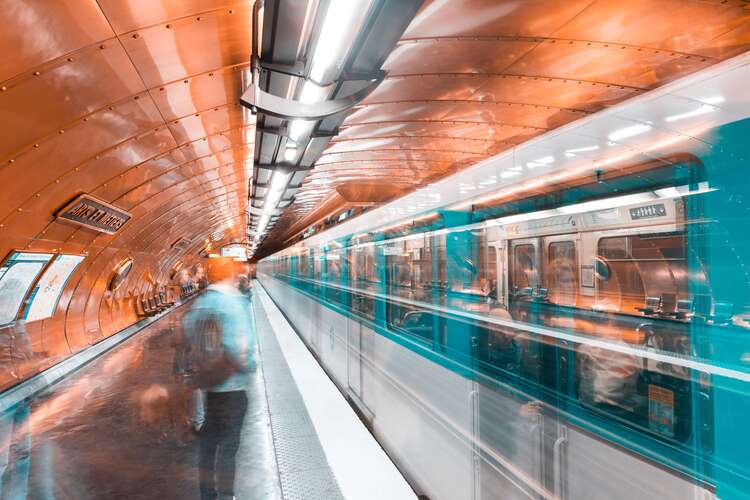 Paris, one of the best university cities in the world
This economic capital is also the leading student city in France and offers young people between 16 and 25 years old many opportunities to study or work.
Paris is above all the second best student city in the world according to the 2018 "QS Best Student Cities" ranking, carried out over the last five years by the specialist firm Quacquarelli Symonds. The French capital has many assets: First of all its attractiveness, with a living environment that it offers to students in all fields of art, culture and leisure. Also the professional opportunities with suitable jobs for young graduates, thanks to the variety of companies based in Paris and the high concentration of prestigious universities and international institutions that we will discover.
In Paris, Polytechnique, HEC and ENA are ranked 4th, 5th and 6th respectively in the ranking of the best international institutions that train the managers of the largest companies.
The number of students in Paris continues to grow, increasing by 25% between 1999 and 2016. There will be 338,000 students at the start of the 2015-2016 academic year, and today 500,000 young people are studying in the Greater Paris area, two thirds (64%) of whom will start or continue their studies in a Parisian establishment. In addition, more students are now studying for long periods, which has an impact on rental investment projects, as demand for rental accommodation remains tense and rental vacancies are very limited.
Paris: strong rental demand drives up prices
Paris, the city of light that makes you dream, is one of the most beautiful cities in the world. It attracts the rental investor who does not take the risk of making a mistake, it is a sure value and it allows to secure his heritage.
These compete on the Parisian real estate market with French people looking for accommodation close to their place of work. Because we discovered earlier that Paris is one of the best student cities (2nd best student city in the world in the QS Best Student Cities ranking of February 2018), and also the French economic capital, which attracts many companies.
Thus, in 10 years, Parisian property prices have increased by 52%! The forecast for 2021 is an increase of +2% to +2.5% of the price per square meter in Paris, for purchases in the old(source: notaries).
The renter/owner ratio is favorable to the real estate investor: Paris thus has 64% of tenants, well above the national average of 43% of tenant households (source INSEE). This figure should be studied closely regardless of the city... since tenants are your immediate customers. Demand therefore depends in part on this ratio.
It is indeed the lack of housing supply, which is much lower than demand, that explains the high property prices in Paris compared to the rest of the French market. Thus in 2020, the average price per sqm in the capital is above 10,500 €/sqm for an apartment. It varies between 9,000 €/sqm and 14,000 €/sqm depending on the districts and neighborhoods. It is therefore essential to study the market carefully to know where to invest in Paris, according to the approach you wish to give to your rental investment project.
The impact of short-term rentals in Paris and the economy of tourism
The attractiveness of the world's most beautiful city remains very strong, despite a slight decline in the last two years due to tragic events. In this context, and with the arrival of short-term rental sites, many private individuals have chosen to offer their properties for seasonal rental in Paris. Thus 90,000 properties are offered on the Airbnb platform in the Paris Region (Ile de France) alone. All properties that are not offered for long term rental.
Not every property that is offered to tourists is offered to a Parisian inhabitant. These recent new uses (the explosion of this type of renting dates from 2014) are contributing to the reduction in the supply of long-term rentals.
Another aggravating factor, therefore, for the shortage of rental offers on the Paris market. As for the question you are asking yourself, namely whether it is necessary to invest in order to rent for a short period of time, we advise against it, for several reasons which will be the subject of a dedicated article.
Rental yield in Paris: up to more than 5% gross, depending on the neighborhood.
As a real estate investor, you should keep in mind that the amount to invest to become an owner of a property in Paris, which we also call a "ticket", is higher than in the provinces. In order to have a property of about 15 sqm, you will have to pay about 210.000 € all inclusive (including notary fees, furniture and renovation) and about 250.000 € for a one-bedroom apartment. This is an element to be taken into account.
Thus, the rental yield in Paris can reach 5.50% gross if you choose to invest in the old property, and renovate and furnish it
Apart from exceptional cases, we advise our clients not toinvest in Paris in Pinel, which does not offer sufficiently high returns, even if the tax advantage is taken into account.
You wish to invest in Paris? Contact us to discuss your project.
What type of apartment is best for investing in Paris?
Now that you know the economic situation and the real estate market in Paris, you still have to choose a suitable product for your investment...
Demand is high but it also depends on the type of apartment to rent. We will find out which types of property offer the highest rental yield in Paris, while having excellent liquidity on resale.
Investing in a studio in Paris is a very good option. Small surfaces are often synonymous with high profitability. In concrete terms, the rent per square meter is higher for a small surface area than for a large apartment, for the same services.
We will advise you to choose, according to your budget, for a small studio surface type in Paris or a one-bedroom apartment which will allow a better rental yield. Larger surfaces will have to be used as shared apartments to offer you the highest rental yield, but the type of property you choose will have to correspond to your target tenants.
Where to invest in Paris? Which district to choose? Which neighborhoods to avoid?
Where to invest in Paris? Which neighborhood of Paris should I select for my real estate investment? If you have ever seriously thought about investing in the capital, then you have asked yourself these questions. This is the case for all the investors I assist.
And the question of the best neighborhood has many answers...
As in all real estate markets, there are areas to favor in order to have an attractive rental yield and other areas for investors who favor the heritage aspect. This depends on each investor's expectations, financial situation, objective and investment horizon.
Our property finders in Paris have excellent knowledge of the Parisian market. Imagine having dedicated search tools at your disposal, and spending 50 hours a week looking for the best opportunities... that's what we are offering you with our unique service for investing in Paris.
Depending on the objective of your rental investment in Paris, you may choose to invest in a developing neighborhood or in a more bourgeois neighborhood. Each district has a different living environment, with a more or less active neighborhood life and public transport, and most are well equipped with shops.
The 1st, 2nd, 3rd, 4th, 5th, 6th, 7th, 8th, 9th, 15th and 16th are the most sought-after boroughs. The old Haussmannian buildings, or year 1900, represent properties with an undeniable cachet. This is also the case for art deco buildings. They are sure values on the market. But the price per square metre in these districts is very high. They are reserved for investors who favour a patrimonial logic, which means a lower return in return for a very strong demand which will facilitate resale.
To obtain a higher rental return in Paris, you will have to turn to the more popular districts. You may choose to invest, for example, in the 18th, 19th or 20th districts. These are emerging districts, which are not yet as attractive as the single-digit districts. Thanks to our services, this type of district will allow you to obtain high returns between 5.00% and 6.00% gross.
Whatever the neighbourhood, the method for obtaining a high rental return is always the same: buying a property to renovate, therefore at a discount to the market. Then turn it into a high quality property. A property that you will fall in love with, thanks to careful renovation and professional decoration.
Note that in each borough, some neighbourhoods are better rated than others. Everything can change from one street to another. Always take into account the following aspects: proximity to shops, transportation, schools and universities...
Download the guide to real estate investment in 2020
Real estate investment in Paris: concrete examples
Here are a few examples of rental investments made in 2020 in Paris. These transactions were carried out by our clients as part of our rental investment advisory services. They have delegated to us the entire process, from research to the rental process, including renovation and decoration.
Studio dans Paris 11ème
Voici un studio réalisé dans un quartier montant du 11ème arrondissement de Paris.
Après une optimisation complète réalisée par notre équipe, ce bien délivre à notre client un rendement de 4,7% brut. Le dispositif fiscal LMNP réel lui permettra de ne payer aucun impôt sur les revenus locatif pendant environ 10 ans. Donc un rendement net de près de 5% pour un bien dans le 11ème arrondissement de Paris, en 2020. Pas mal non ? :)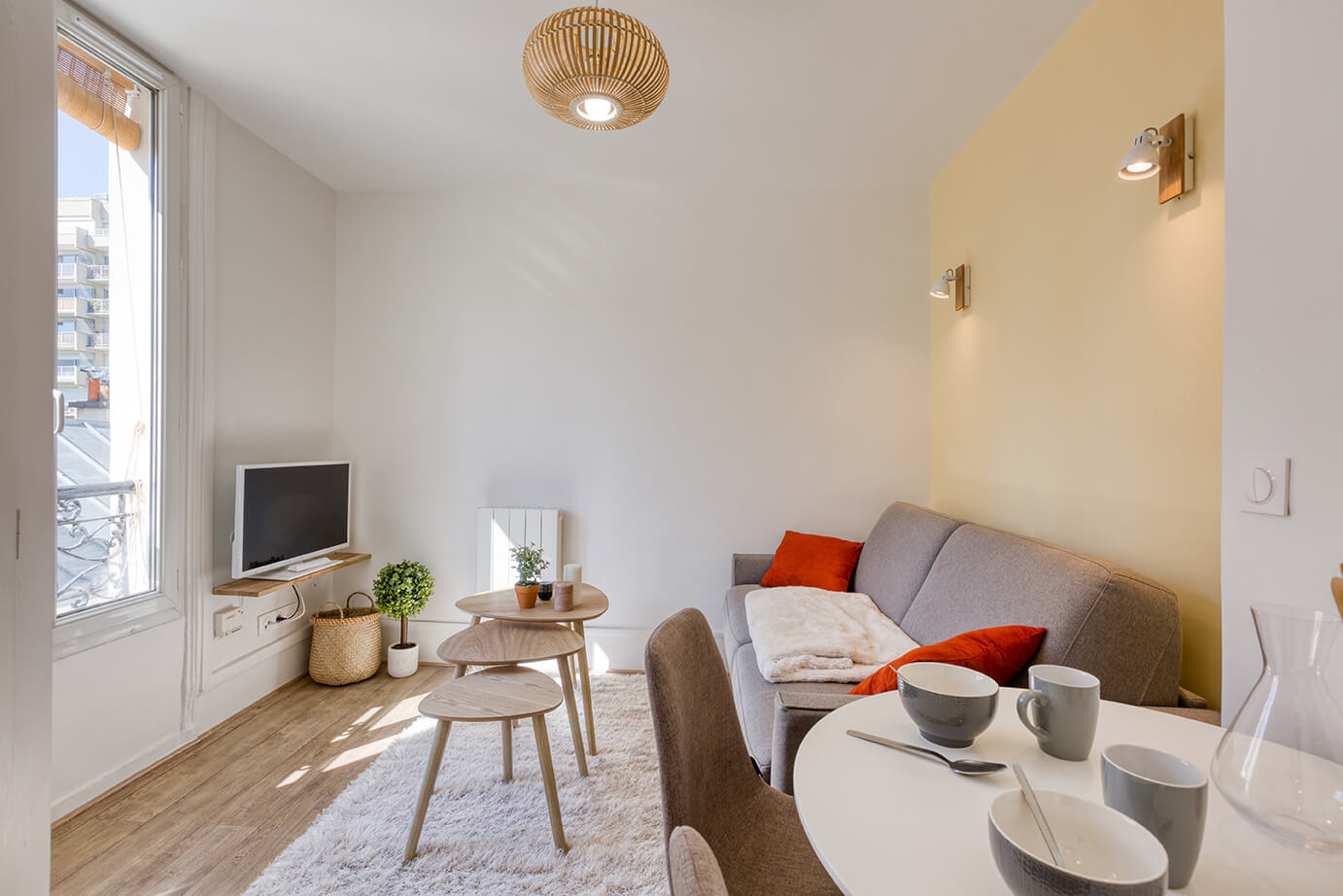 Appartement 2 pièces dans le 15ème arrondissement
Pour cet appartement, nous changeons de quartier. Notre client nous a sollicité dans le cadre de notre prestation de conseil en investissement immobilier à Paris, avec une volonté d'investir dans un arrondissement intermédiaire. Son souhait était de s'orienter vers un T2 en bénéficiant d'un rendement locatif supérieur au marché. Notre équipe a réalisé ce projet dans le 15ème arrondissement, et l'appartement délivre plus de 5% de rendement.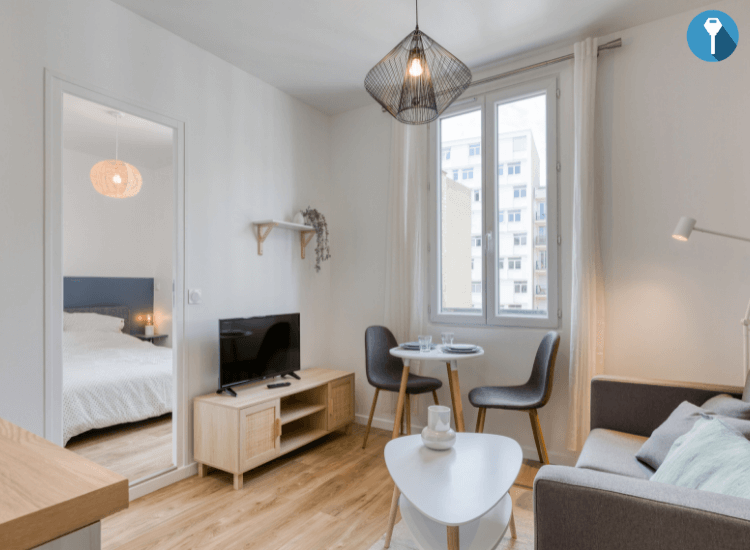 What is the budget for a real estate investment in Paris?
The minimum entrance ticket for a studio in Paris with our company is about 210.000 €, all inclusive. With this budget you will have a fully renovated, optimized and furnished studio. This includes acquisition, notary fees, complete renovation and furniture / decoration. This budget will allow you to have about 10.000€ of annual rental income.
Of course some investors, with lower budgets, will choose the maids' rooms. These apartments can be rented from a minimum of 9m² or 20m3. We do not accompany this type of project.
Then it is possible to invest in Paris for larger budgets. Thus we propose apartments of type T2 from approximately 250.000€, shared flats and cut-outs from approximately 350.000€. For investment properties in Paris, the entrance fee is high, starting from a minimum of €3 million, which generally excludes private investors.
We offer our clients investment properties in the Paris region, with budgets starting at €600,000 all inclusive and up to €2 million.
Prices per square meter in Paris
Making a real estate investment means first of all knowing the market well. You need to find out about prices per square metre in Paris. And they depend on the districts and neighbourhoods.
Paris has 20 arrondissements, snail-shaped on both sides of the Seine: they are called Rive Droite and Rive Gauche. The 1st to 7th arrondissements are the most expensive in Paris, with an average price between €12,000 and €17,000 per square metre in July 2020.
The 18th, 19th and 20th arrondissements offer average prices below €10,000 per square metre, which is more reasonable and the cheapest in the capital.
The average price per square metre of apartments in the other districts is between €10,500 and €14,000.
We will also note that within the same district, average prices per m² can vary considerably from one district to another, from one street to another, but also according to the type of building and property.
Prices in Paris are constantly on the rise, as you can see on this graph which shows us the evolution of real estate prices in Paris between 1980 and 2019.
Source: Notaries Paris, April 2019.
The impact of rent control in Paris
Anxious to enable Parisians to find good housing, the former Housing Minister Cécile Duflot passed a rent control law, known as the Alur law. This law came into force in 2015.
The Alur law regulates rents according to Paris districts, divided into 80 zones. Thus, for each zone according to the type of property, a reference rent and an increased reference rent indicate to the lessor the maximum amount of rent to be applied. A rent supplement can be added to this amount. This additional amount, with very vague contours, must be justified by locational or comfort characteristics of the dwelling. It must be mentioned on the lease.
To date, there is no legal list of the characteristics or rates that can be applied, and the good practice is to rent a property at a fair price. This means that a property that has a rent supplement must be worth its price, and this is what I advise my clients to do.
Parisian property market: 2020 outlook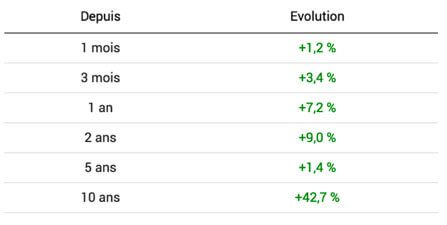 The Paris real estate market has grown strongly in 10 years (+52%). After a sharp rise in 2019 (+9.80%), the year 2020 got off to a very good start, before coming to a net halt during the period of containment. The post-confinement recovery shows that prices are holding steady, even though volumes are logically down. The notaries anticipate a continuation of the increase in the cvapital for 2020. Prices per square metre in Paris should continue to rise. As far as renting is concerned, nothing new under the Parisian sun. Rental demand remains strong even if rental prices seem to have stabilised. The number of students, especially international students, continues to grow and the economy is operating at full capacity with an increase in the number of businesses being created in Paris. As a result, the economic fabric of Paris, its growing demographics and increasing rental demand will continue to mobilize the interest of rental investors in the coming years.
> Source: Notaries' data, April 2019.

Do you have a real estate investment project in Paris? Exchange with our team for free.

Mickael Zonta
Rental Investment Director
A graduate of a major business school, and after a first successful experience in finance, Mickael Zonta began his career in real estate in 2011 in Paris before extending his activity to the Paris region and the city of Lyon. The fact that he is also a real estate investor in a personal capacity allows him to understand clients' issues in terms of investment objectives, rental yield and choice of tax regimes.
Success stories from our investor customers
Our greatest pride is your renewed trust! More than 2 out of 3 clients go on to one or more other projects. Find out why...
Benoit CARTHERY

Paris Region

"I would like to share here my experience with the investment-locatif.com company, to reassure people who are not familiar with the concept I call: "they take care of everything, you take care of nothing 😊". Well almost nothing, you just have to ask your bank for the loan 🏦(...) I can't wait to start a new project with them.

Vincent Alagille

Paris Region

"(...) The support and the follow-up of the project are done by a dynamic, professional and pleasant team. The various impediments are quickly overcome thanks to the efficiency of the staff. It's confusing how easy it is to invest with Investissement Locatif! I HIGHLY RECOMMEND.

Gaby Taverny

Paris Region

"(...) I was convinced by the services offered by Investissement-locatif.com (...) The deadlines announced at the beginning of the project were respected, a fact that is worth emphasizing. The service was clearly up to my expectations. The attention of the various players throughout the process was an important part of the project. Communication is key. Moving on to the second project ...!!!!!
Our advice on rental investment
Discover the guide for
Un investissement locatif rentable en 2021