Rénovation d'appartement à Paris
La rénovation d'appartement à Paris n'est pas une mission facile.
Même si de nombreuses entreprises de travaux sont présentes, il est difficile de trouver un partenaire de confiance, qui réalise un travail de qualité pour un prix honnête.
Vous souhaitez des conseils ou un suivi pour rénover un appartement à Paris ?
Rénovation appartement Paris : état du marché
---
Les entreprises de renovation et de travaux ne se valent pas toutes. Le problème est que l'effet grande ville ouvre les portes à des entreprises peufiables qui misent sur une stratégie de volume : trouver des clients différents à chaque fois. Ce genre de pratique est moins répandu dans les petites villes à cause du bouche-à-oreille. Le coût des rénovations à Paris est plus important qu'en province : comme tous les services il est tiré vers le haut par le coût de la vie plus élevé que dans le reste de la France. La bonne nouvelle c'est que parmi les nombreuses entreprises certaines réalisent un travail de qualité, et à un prix raisonnable. Encore faut-il les connaitre et savoir suivre le chantier.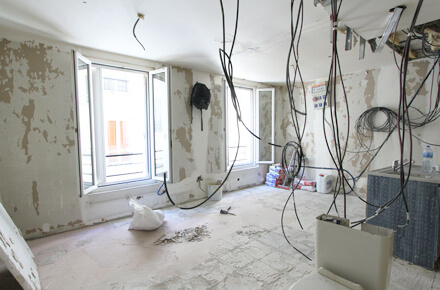 La qualité pour la rénovation d'un appartement
---
Si le home staging est important dans une location, le niveau de qualité des finitions l'est encore plus. Or la qualité des finitions et des matériaux employés varie d'une entreprise à l'autre, tout comme les délais de réalisation. Plusieurs propriétaires nous ont demandé de récupérer des chantiers en cours parce qu'ils ont fait confiance à la mauvaise entreprise... Certains entrepreneurs font appel à une main d'oeuvre mal qualifiée pour réaliser des économies de coûts et casser les prix. En général il s'agit d'entreprises récentes qui ne règlent pas la TVA et ferment au bout de 3 ans, pour rouvrir avec un prête-nom. Evidemment ce genre d'entreprise est à éviter absolument. Au delà de la qualité des matériaux employés et des finitions vous risquez un arrêt en cours de chantier. Renseignez-vous sur les chantiers préalablement réalisés et essayez d'en visiter au moins 1 ou 2 pour être sûr de la qualité des réalisations. Vérifiez également que l'entreprise sélectionnée dispose des garanties nécessaires par exemple la garantie décennale qui vous protégera en cas de malfaçon. Une autre possibilité est de déléguer le suivi de travaux à des personnes qui ont l'habitude, et qui mettront leur professionnalisme à profit pour que votre rénovation d'appartement à Paris soit une réussite.
Quel coût pour une rénovation d'appartement à Paris ?
---
La question du prix est délicate car elle dépend toujours du chantier... et chaque chantier a ses spécificités. Notre dernier chantier par exemple incluait la démolition d'une dalle de béton mal située, et l'ouverture d'une fenêtre dans un mur porteur. Le travail n'est donc pas le même que pour une simple prestation de peinture. Le prix varie en fonction des changements de plan nécessaires, des meubles réalisés sur mesure, des huisseries à changer, du déplacement des points d'eau et de la qualité des finitions et des matériaux employés. Vous souhaitez nous confier le suivi de chantier à travers un conseil en aménagement et être sûrs de travailler avec des entreprises sérieuses ? Contactez-nous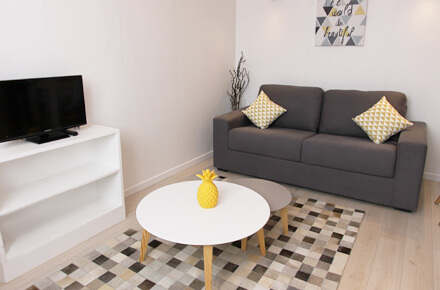 Success stories from our investor customers
Our greatest pride is your renewed trust! More than 2 out of 3 clients go on to one or more other projects. Find out why...
Benoit CARTHERY

Paris Region

"I would like to share here my experience with the investment-locatif.com company, to reassure people who are not familiar with the concept I call: "they take care of everything, you take care of nothing 😊". Well almost nothing, you just have to ask your bank for the loan 🏦(...) I can't wait to start a new project with them.

Vincent Alagille

Paris Region

"(...) The support and the follow-up of the project are done by a dynamic, professional and pleasant team. The various impediments are quickly overcome thanks to the efficiency of the staff. It's confusing how easy it is to invest with Investissement Locatif! I HIGHLY RECOMMEND.

Gaby Taverny

Paris Region

"(...) I was convinced by the services offered by Investissement-locatif.com (...) The deadlines announced at the beginning of the project were respected, a fact that is worth emphasizing. The service was clearly up to my expectations. The attention of the various players throughout the process was an important part of the project. Communication is key. Moving on to the second project ...!!!!!