Our advice for your real estate investment
Discover our advice, explanations and case studies concerning rental investment. Register at free of charge to our
newsletter to be kept informed of the latest articles, the latest achievements and our real estate opportunities.
Comment choisir le bon régime fiscal pour une investissement dans l'immobilier ?
Il est primordial de choisir le régime fiscal idéal pour optimiser les revenus locatifs et payer moins d'impôts afin de multiplier par deux ...
La situation du marché immobilier français en 2021
Vous êtes investisseurs en immobilier ou vous voudriez le devenir en 2021 ? Nous allons vous dévoiler l'actualité de l'immobilier en ce débu...
Comment le courtier immobilier peut optimiser votre capacité d'emprunt
Vous souhaitez opter pour un crédit immobilier et optimiser votre capacité d'emprunt ? Découvrez les avantages de passer par un courtier imm...
Cash flow immobilier : définition, calcul, comment l'optimiser ?
Le cash flow immobilier permet de déterminer chaque mois ce qu'un investissement rapporte à son investisseur, soit ce qu'il touchera chaque ...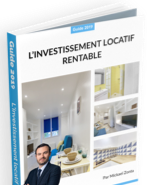 Discover the guide for
Un investissement locatif rentable en 2021
Co living : un nouveau concept d'investissement immobilier
L'habitat partagé : c'est le pari du coliving. La tendance prend de l'ampleur et les investisseurs s'y intéressent de plus en plus. Rentabil...
Préparer sa retraite avec l'immobilier
Retraite rime avec diminution du pouvoir d'achat. Comment contrer cet effet ? L'immobilier est un placement particulièrement adapté pour la ...